Deborah Faye Lee & Sarah Tan
Let's Talk Perspectives
So when this first started, the COVID… growing up in India, I've seen racial tensions, not to foreigners, but you know, India has a lot of sub cultures and when a situation like this happens, it quickly takes a very serious and violent form occasionally. When COVID hit, my first instinct was "oh boy, I think we might just end up having a similar situation to here in Australia." Because I could see where this was leading to… the distrust. I was seriously worried and I was thinking at that point in time, knowing again some of these experiences from before, "hey I've got to do something about this, as in I, I can't just be waiting for things to take a bad turn." Luckily they haven't. Well, one of the things I did was, I formed a Facebook group which is still a very active group. I call it the Ryde Multicultural Community. Because basically I live in the Ryde area. I wanted to, at least at the local level, be able to reach out to people I can physically talk to. To me, it was about both sides appreciating each other, reducing distrust and trying to open up the conversation for everyone to feel comfortable talking about issues that are bothering them. Because I think it's easier to talk versus let it fester and build up to a point where someone could get hurt physically, literally… and that did happen.
"We take, like yearly road trips to the beach because that's what we do as a family and the amount of times that we've had xenophobia or blatant like racist attacks, it's so common that I've unfortunately gotten a bit used to it.
My sister particularly, it's just like, she gets more upset by it but she's being more jaded as well now, when it comes. She and her friends went on a boat trip, I think in September?
So this was when it was starting to get laxed and they got yelled a lot of slurs when they were like driving the boat around and all her friends are so lovely but so innocent. And they all got so affected by it and they were just like "how can this happen? This is Australia.
This shouldn't be happening and my sister's like "this happens to me every summer that we go down". Especially when it happens in the moment, you're in a specific state of shock, you're like "for real? Like seriously this has happened?" It takes you a moment to think about it and then like a couple of hours later you're like "wait that was not OK!" I'm the type of person that when something shit happens, you try and think of good comebacks hours later, and you're like, "ugh, this is not going to work. But I'm just going to try and think of what to say to the person." It never really happens that way. Because in the next moment it happens, you're again in a state of shock and you just can never really process that? Because this shouldn't happen but you're also bracing yourself for it to happen."
Steph Garcia Jowett (she_her)
"For me the thing about being Asian and especially during COVID, I think a lot of the things that were always underlying biases, sort of, I think became a lot more intense and exploded kind of when COVID happened. Like it became more intensified and I think one of these sort of biases was always this thing that I thought about, is this idea that the way people sort of view, um Asians it's very homogenised, like a very particular group and it's just one idea. And I've always found that very confusing cause to me, I think the sort of Asian experience is so diverse within, whether you're sort of like Eastern Asian, Southeast Asian, South Asian, like it's such a diverse mix of cultures and people and identities. I think I'm starting to process more of this idea of the intersectionality of your identities, and I guess for me it's like being sort of queer, mixed race. I guess how this all mixes in together, and what does that mean and what box do I fit in. I guess I'm starting to come to terms that I don't fit in a box but that's fine. But it's probably good and hopefully the intersectionalities sort of brings new ideas or new things into the world and hopefully see things in a different way that people don't tend to see."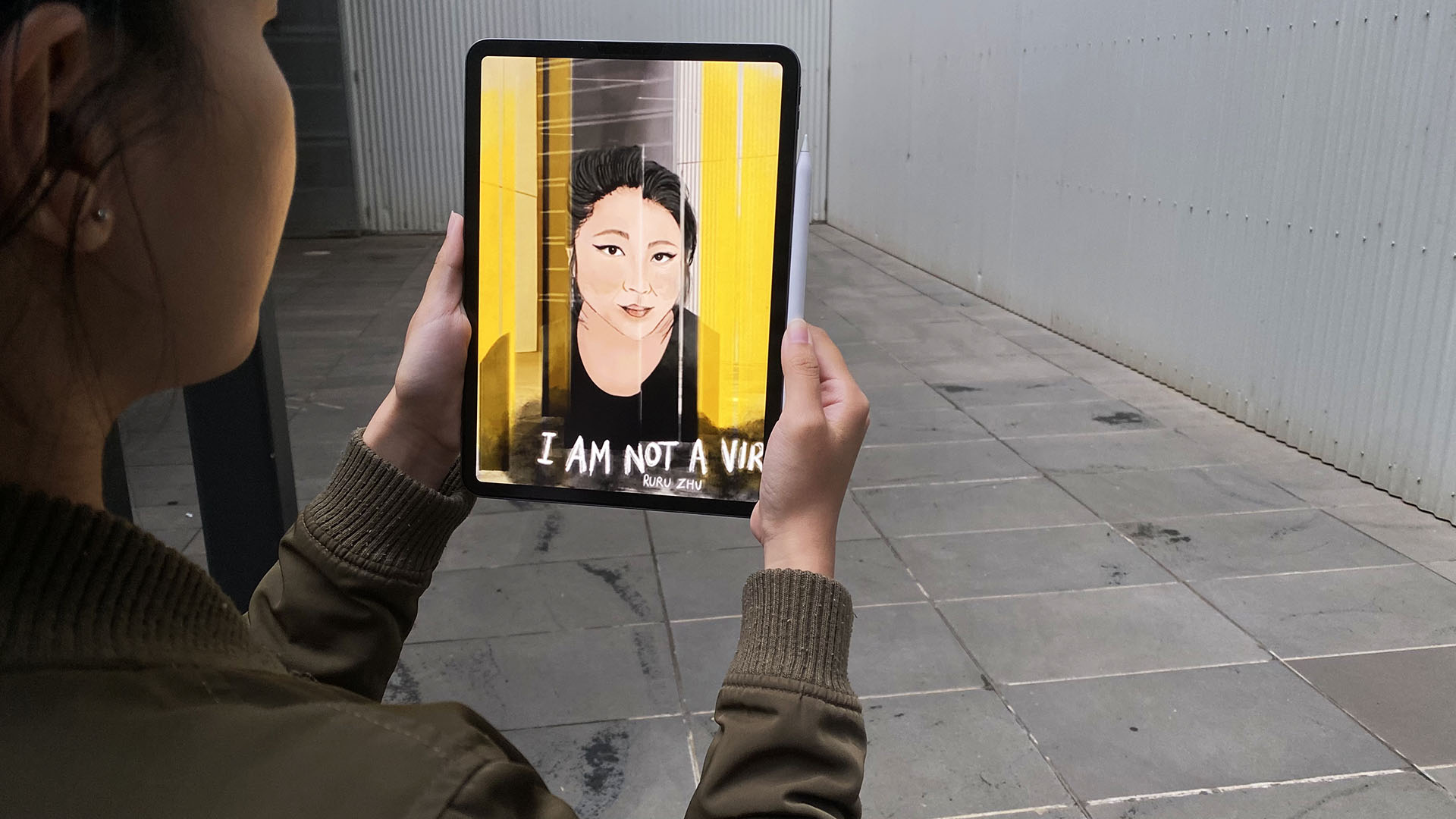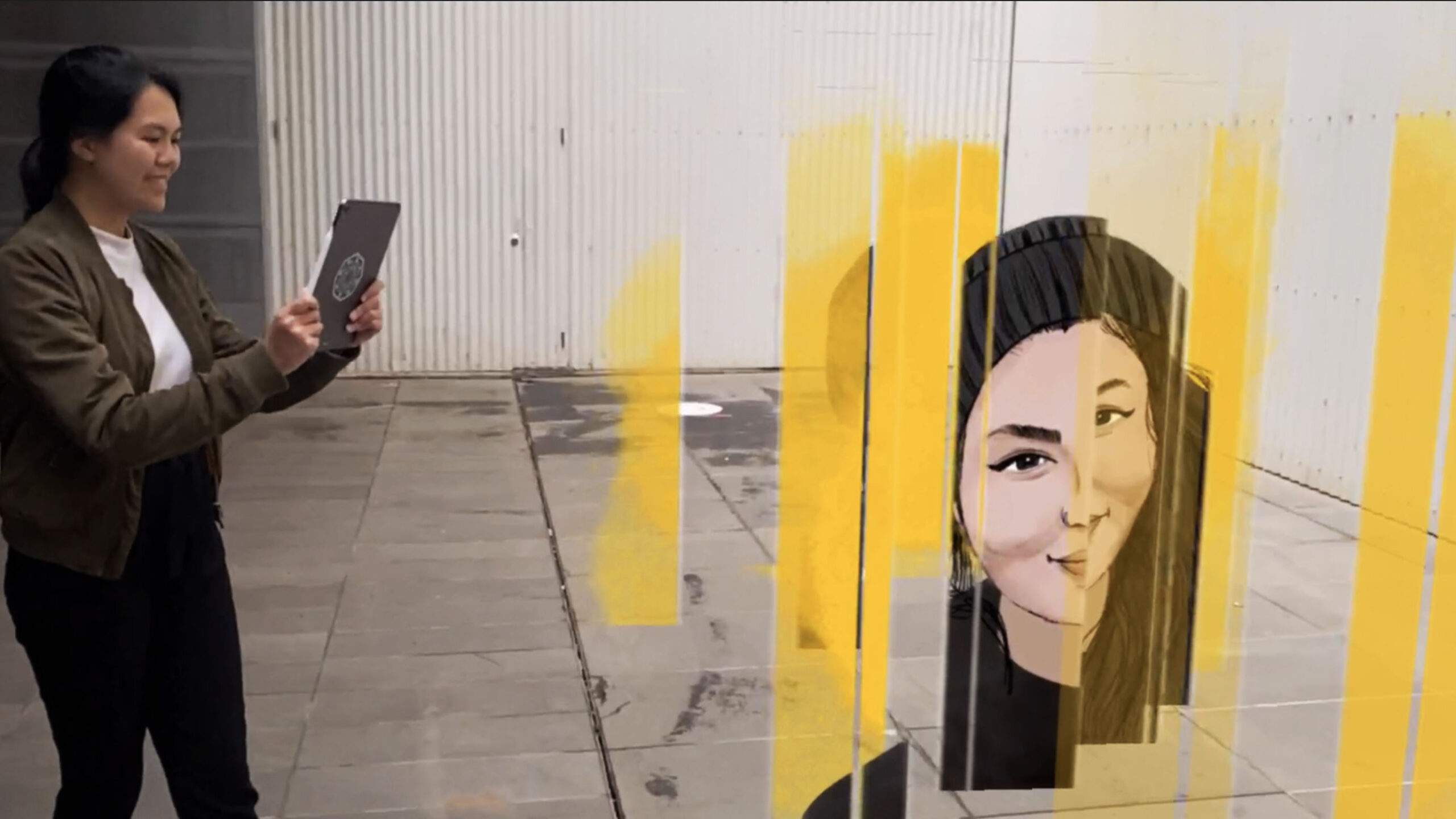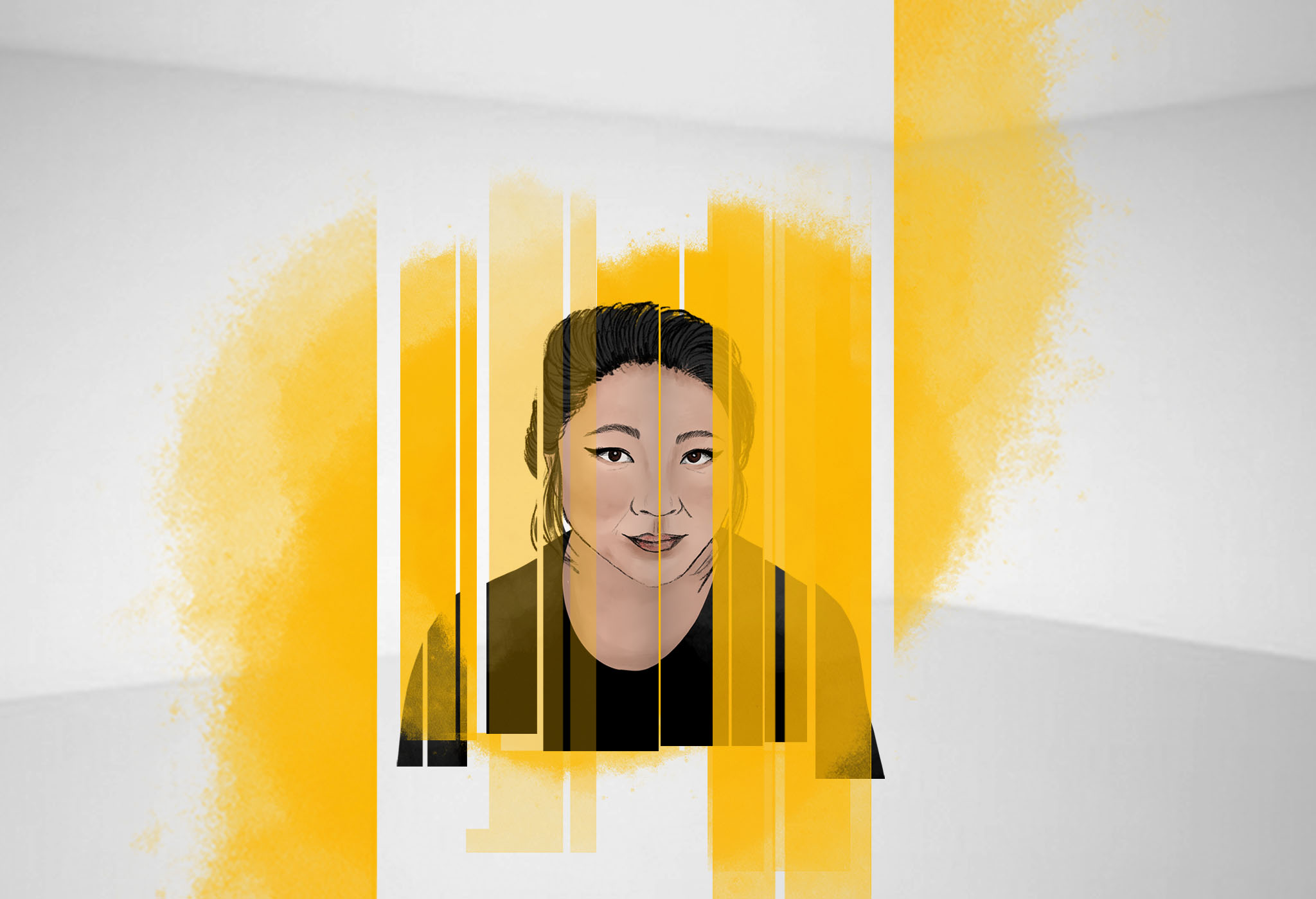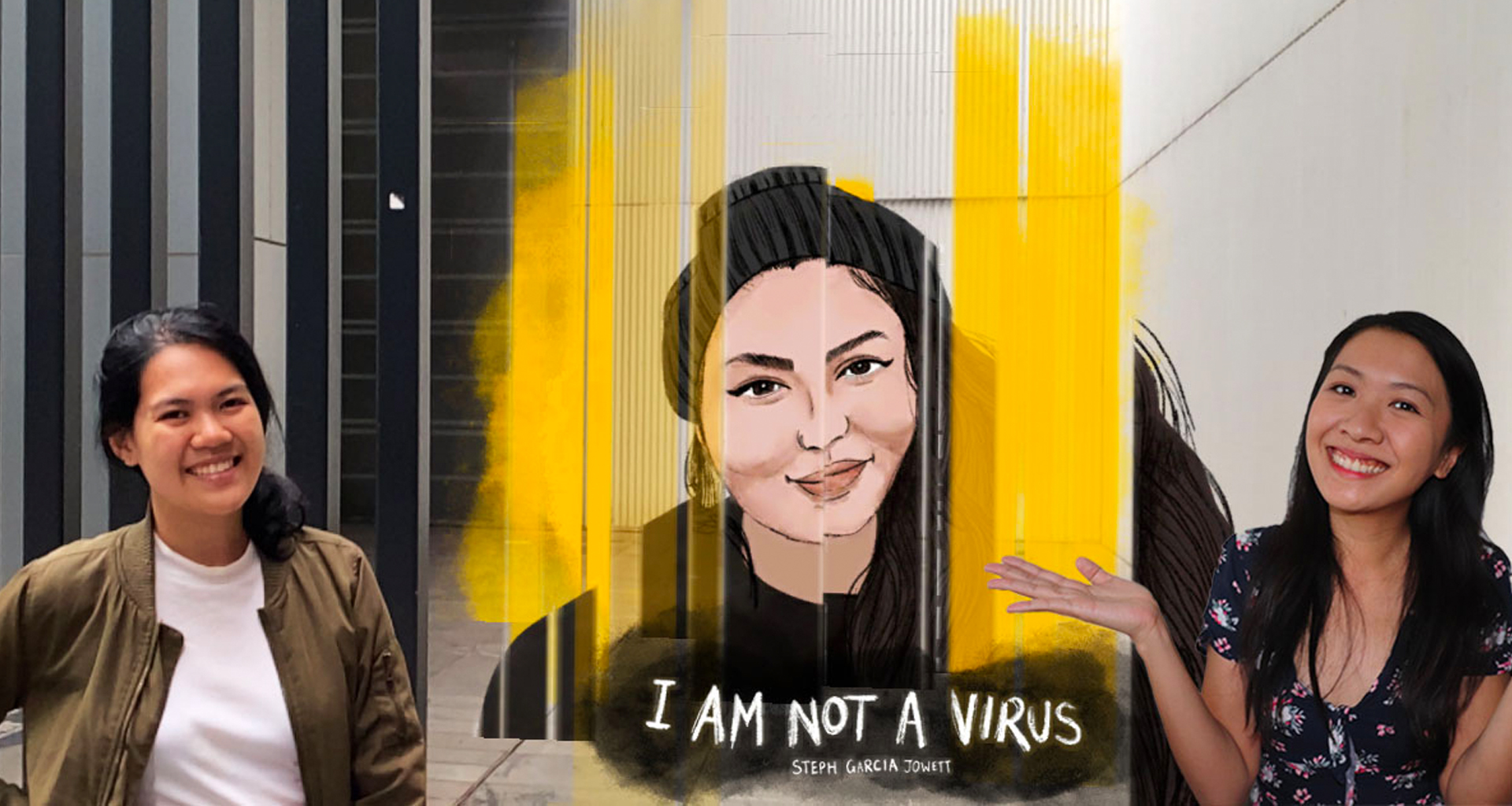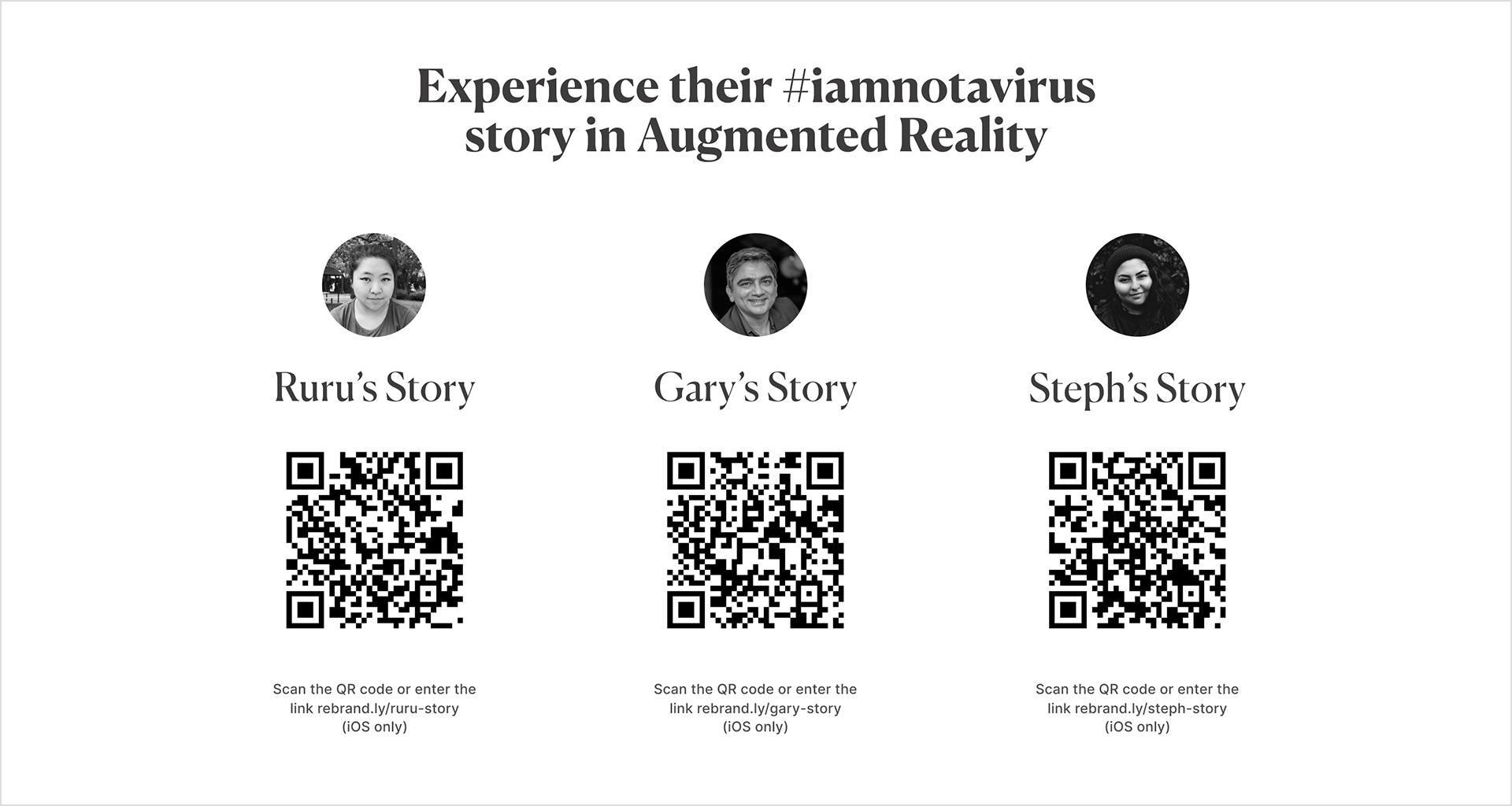 Let's Talk Perspectives comprises several Augmented Reality (AR) artworks, featuring the stories of three Asians in Australia who have been impacted in a number of ways by COVID-19, in particular COVID-19 related racism.
The immersive nature of augmented reality allows the public to gain new perspectives through the raw and honest sharing of the interviewees' journeys. As people navigate the artwork, we hope this experience encourages them to see Asians beyond our preconceived stereotypes and to take the time to explore the rich heritage and histories of our Asian communities.
On the artists' part, this work also signals the rejection of racist and xenophobic violence and discrimination faced by Asians due to the pandemic. This piece is a small step towards building a more tolerant society, one that is filled with kindness, empathy and mutual respect. The auditory portion of this experience is also representative of giving a voice, authority and a platform for Asians to speak up, especially during this period.
We also chose AR because the artwork can be easily accessed with a mobile device, and its impact will be experienced in Australia and internationally. We also want to bridge the traditional and modern ways of experiencing art, and explore the power of storytelling through art and new immersive technologies.
Music credit in video: Atmospheric Clouds by Bobby Cole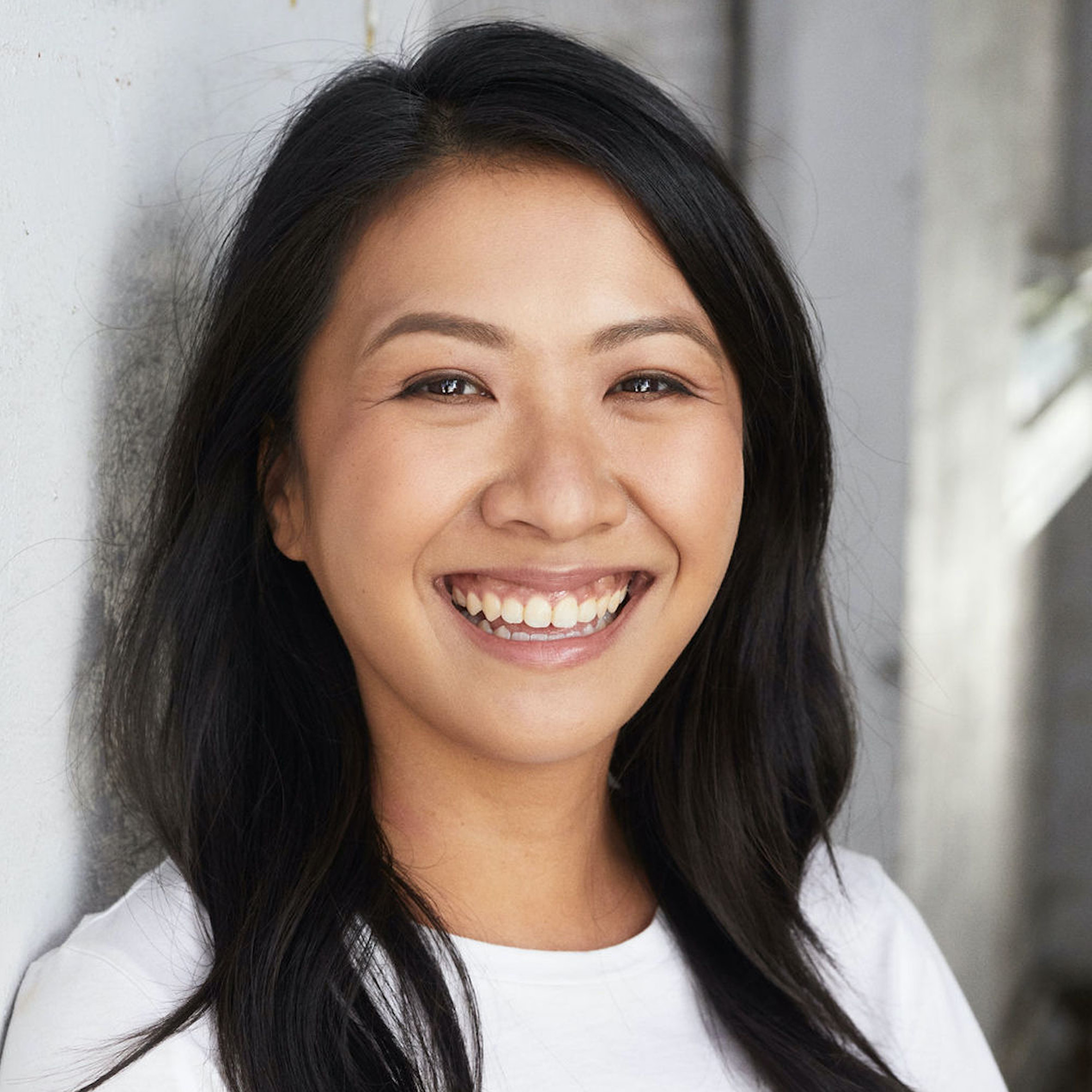 Deborah Faye Lee is a Sydney-based actor and writer from Singapore, and a 2018 NIDA Acting graduate. Recent acting credits: Dracula (NIDA Festival of Emerging Artists), Siti Rubiyah (Sydney Festival). She recently presented excerpts of her play, Don't Box Us Up , at Contemporary Asian Australian Performance's Longhouse: Works in Progress. Her short film, Finding Singapore , is currently screening at the Singapore Art Museum. She was a part of Sport for Jove's Producer Mentor Program 2020. She works on the lands of the Wangal people of the Eora Nation and strives.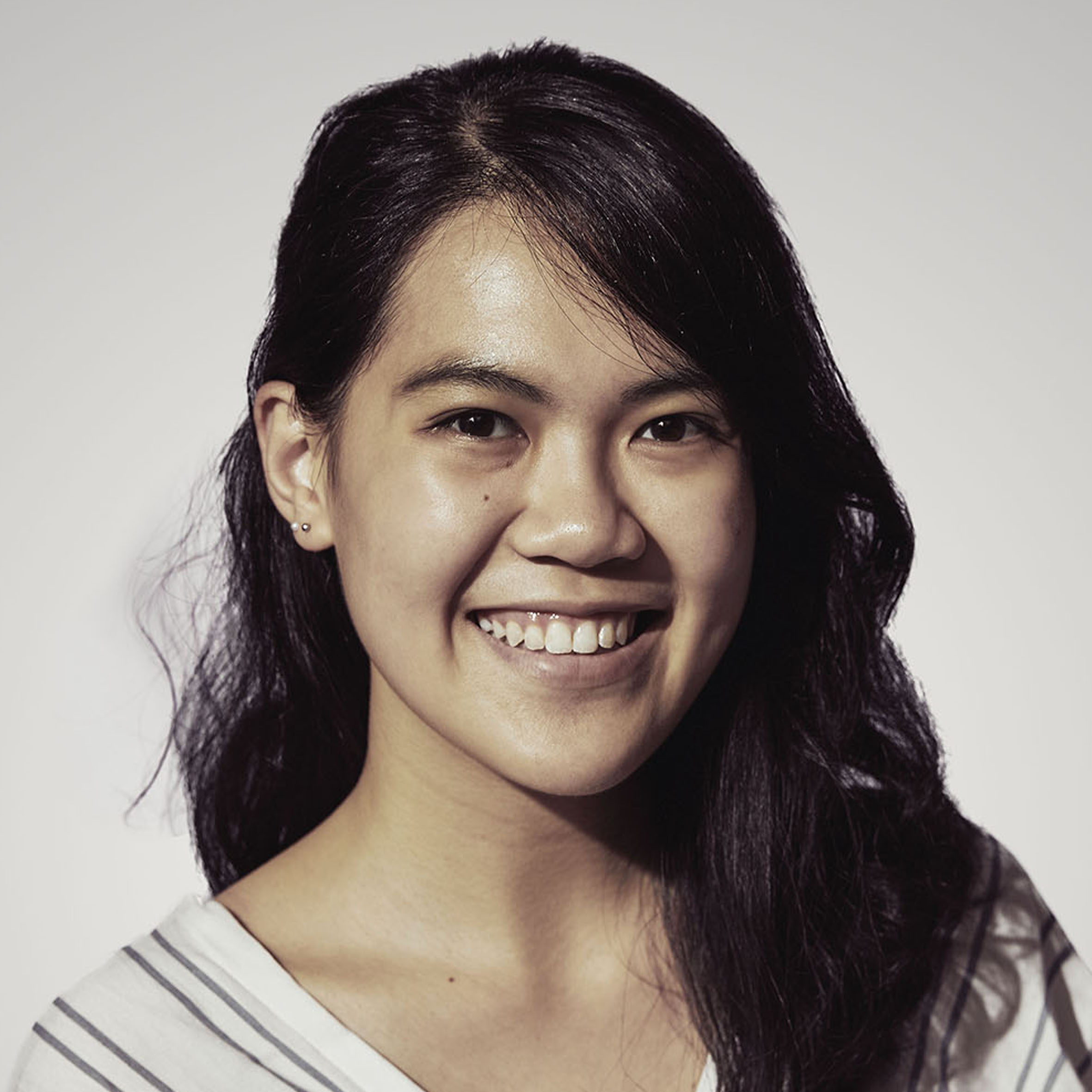 Sarah Tan is an award-winning Malaysian product designer and artist based in Melbourne with a passion for crafting meaningful experiences. She previously designed digital experiences for Google, Facebook, Adobe and more. She is also an Augmented Reality (AR) specialist and has been pushing the boundaries and exploring potential use-cases of AR. She creates AR frameworks to simplify workflows, conducts educational AR/VR workshops, and was featured on the news for her AR projects. She recently had her solo art exhibition, Unseen, where she incorporated AR into her illustrations to spread social awareness and experiment on using immersive technologies in art. www.sarahtan.design