Yeon Ju Chun Fluffy the Dragon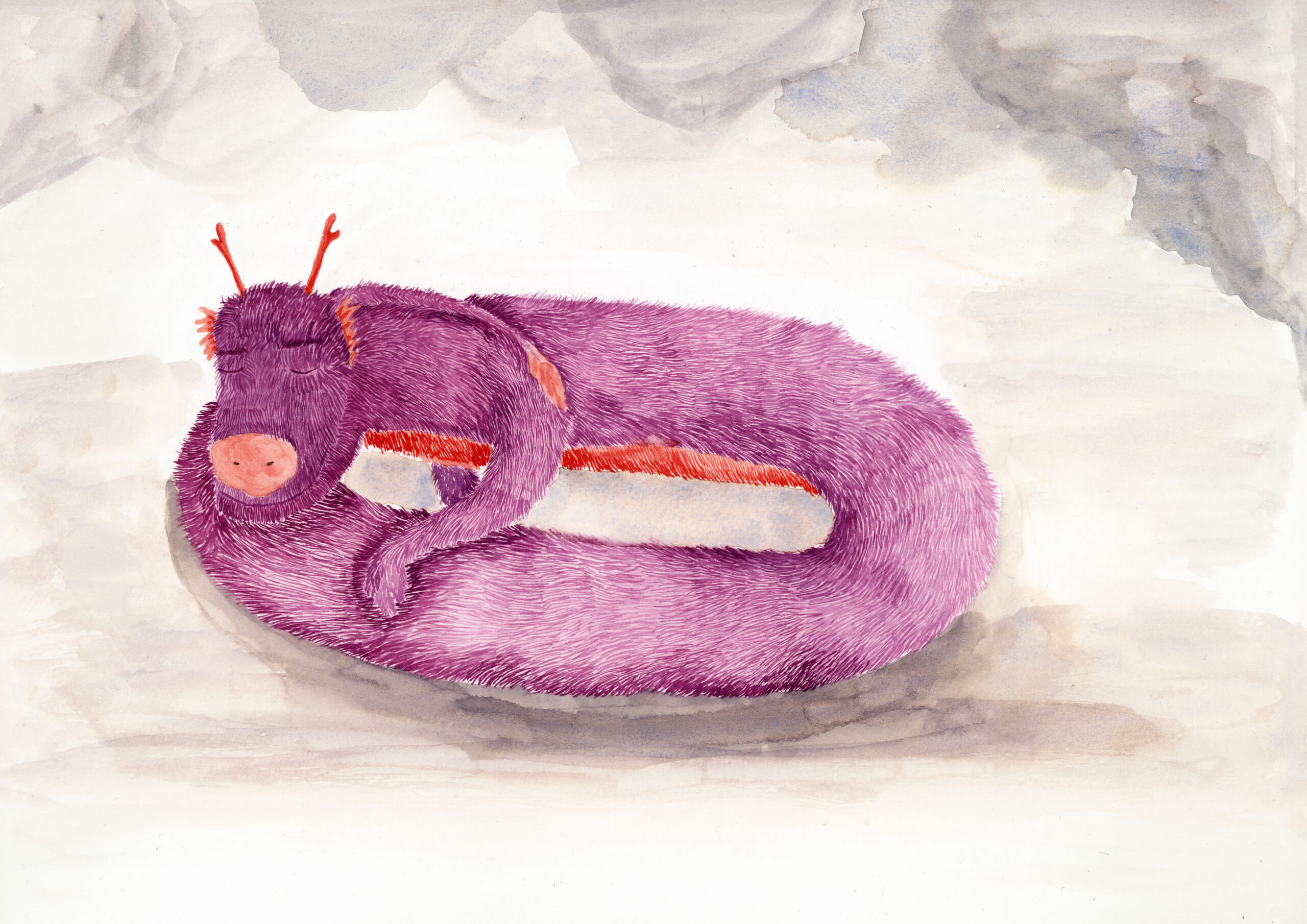 In a dark and long cave, there was a dragon. Fluffy was no ordinary dragon but an extraordinary one. She had fluffy and such soft fur that covered her entire body. She was different from other dragons, but she knew she was special because of that reason.
It was a very sunny day. All the dragons were playing with trees and tossing rocks at each other.
Fluffy wanted to join them too, so she asked the other dragons, "Hey, can I join in?" All the other dragons stopped playing and stared at her and just laughed away. One of the biggest dragons of them all said to Fluffy, "No, your fluffy fur will get caught on a tree branch." All the
dragons started laughing at her. They laughed so hard that they could almost feel the mountain moving.
Fluffy turned around slowly and made her way back into her cave. She sobbed and sobbed so much that the cave became muddy. She fell
asleep for a while and suddenly heard a loud bang! With a surprise, she woke up and tried to find where the noise came from. Finally, she found something tiny. It was smooth and seemed to be shivering.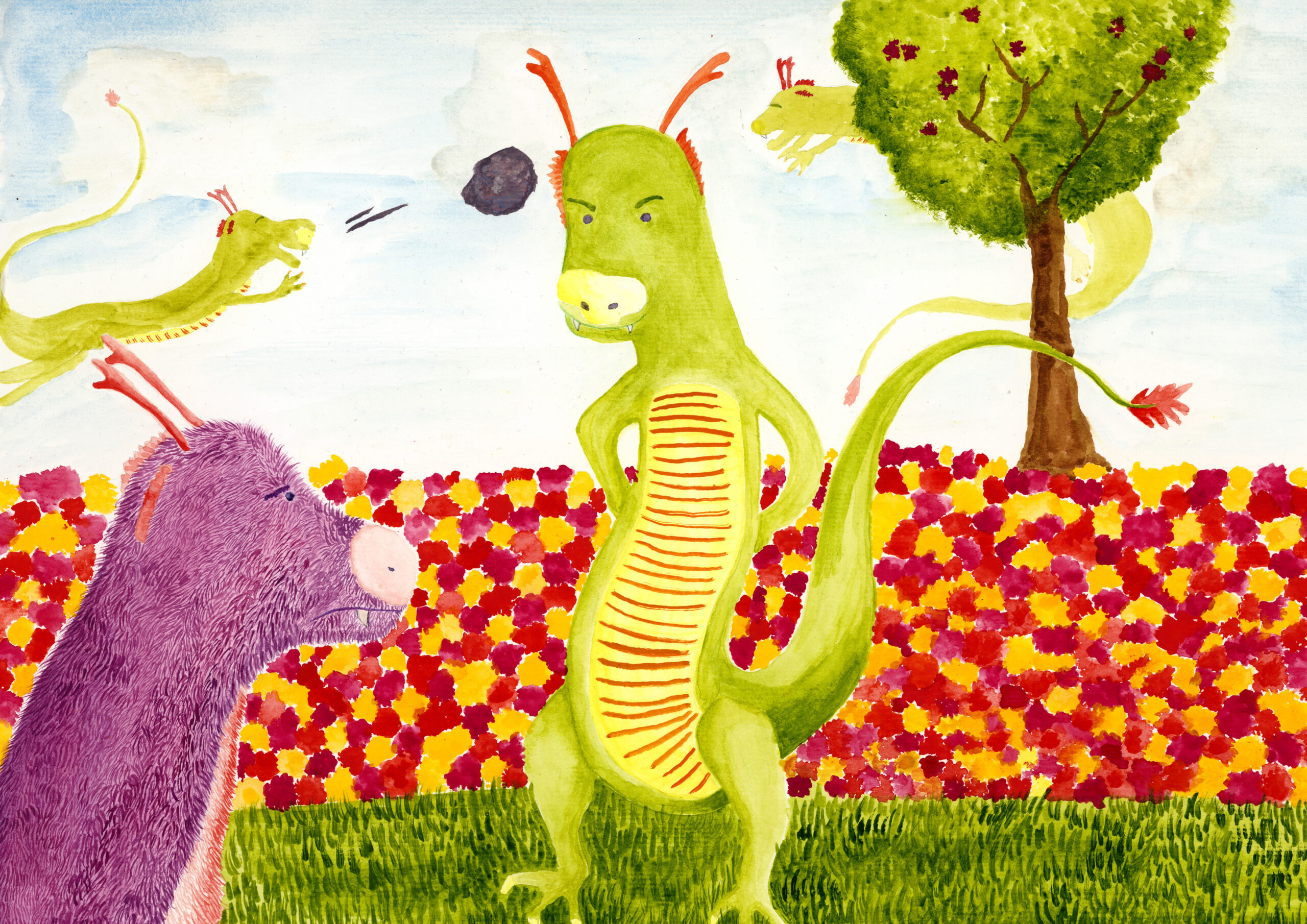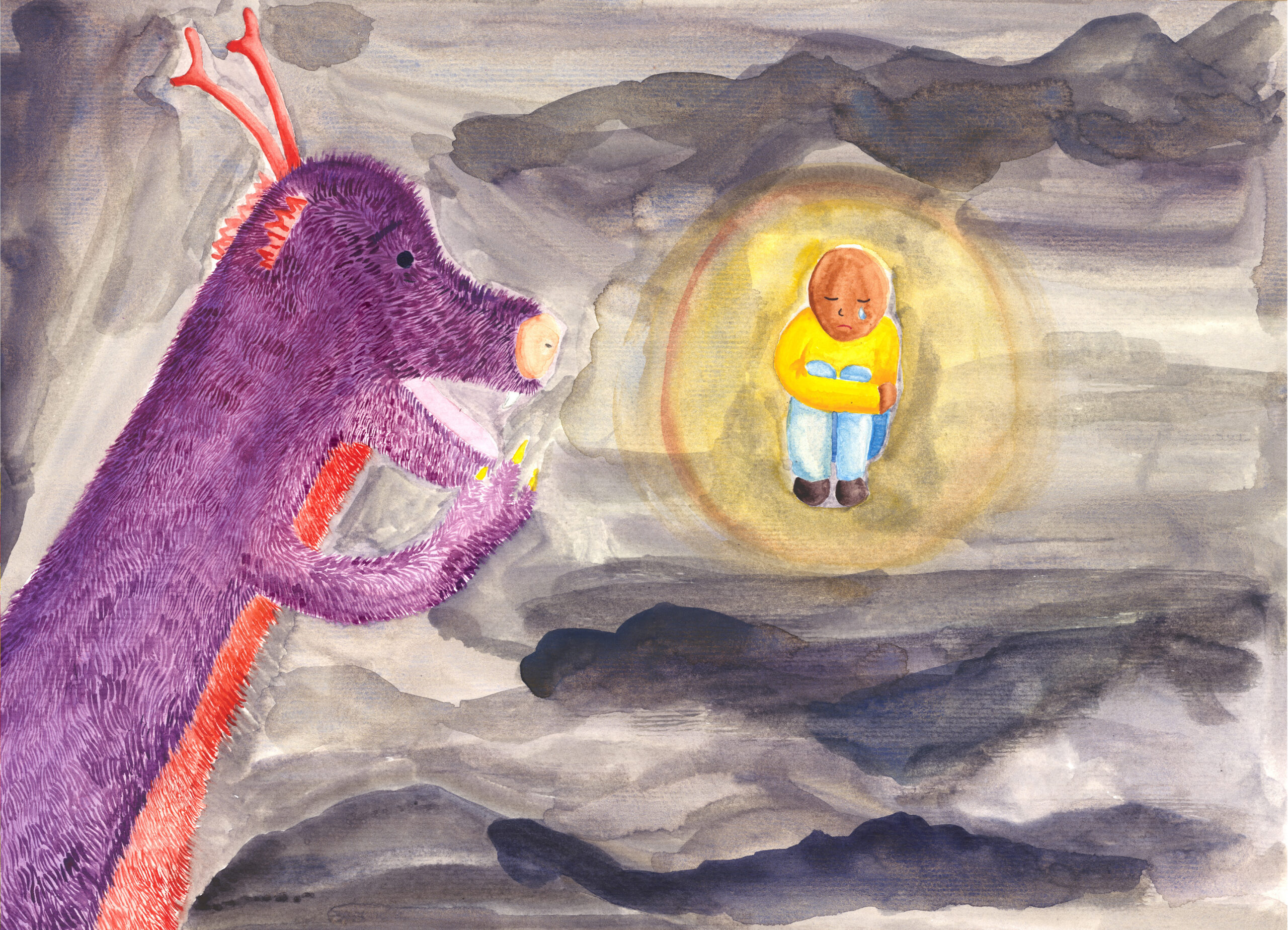 Fluffy then carefully tried to sniff the tiny creature. All of a sudden, this small creature jumped and made a shrieking noise. Fluffy was so shocked she fell and hurt herself. "Ouch, ow." She cried out, and the tiny creature slowly came towards her. It started to talk. "Are you okay? I'm sorry if I've scared you. I thought you were trying to eat me."
Fluffy laughed and said, "What? why would I do that?" As the tiny creature came closer to her, she realised it was a small human child. "I'm Fluffy the dragon. What's your name?"
The boy said, "I'm Jun Ho. Nice to meet you." Fluffy asked, "Why are you here? So far away from your home."
Jun Ho looked down on the ground with a sad face and said, "All the other kids were teasing me, so I ran away far away from them."
Fluffy, with surprised eyes, said, "Why would they do such a horrible thing?" Jun Ho said, "Because I am different from them. I have no hair."
Fluffy, circled him and said, "I think you look fabulous! I wish I had no hair like you!" Jun Ho was shocked and said, "What? Why? I wish I had fluffy hair, just like you!" Fluffy smiled and said, "All other dragons make fun of me because I am fluffy."
They looked into each other's eyes as though they have understood each other; like they have known each other for a very long time.
From that day on, they became best friends. They would play together every afternoon. Jun Ho would hop on Fluff's back and fly around to see the magnificent view. They would tumble and roll down the hill together. There was so much laughter, singing and dancing.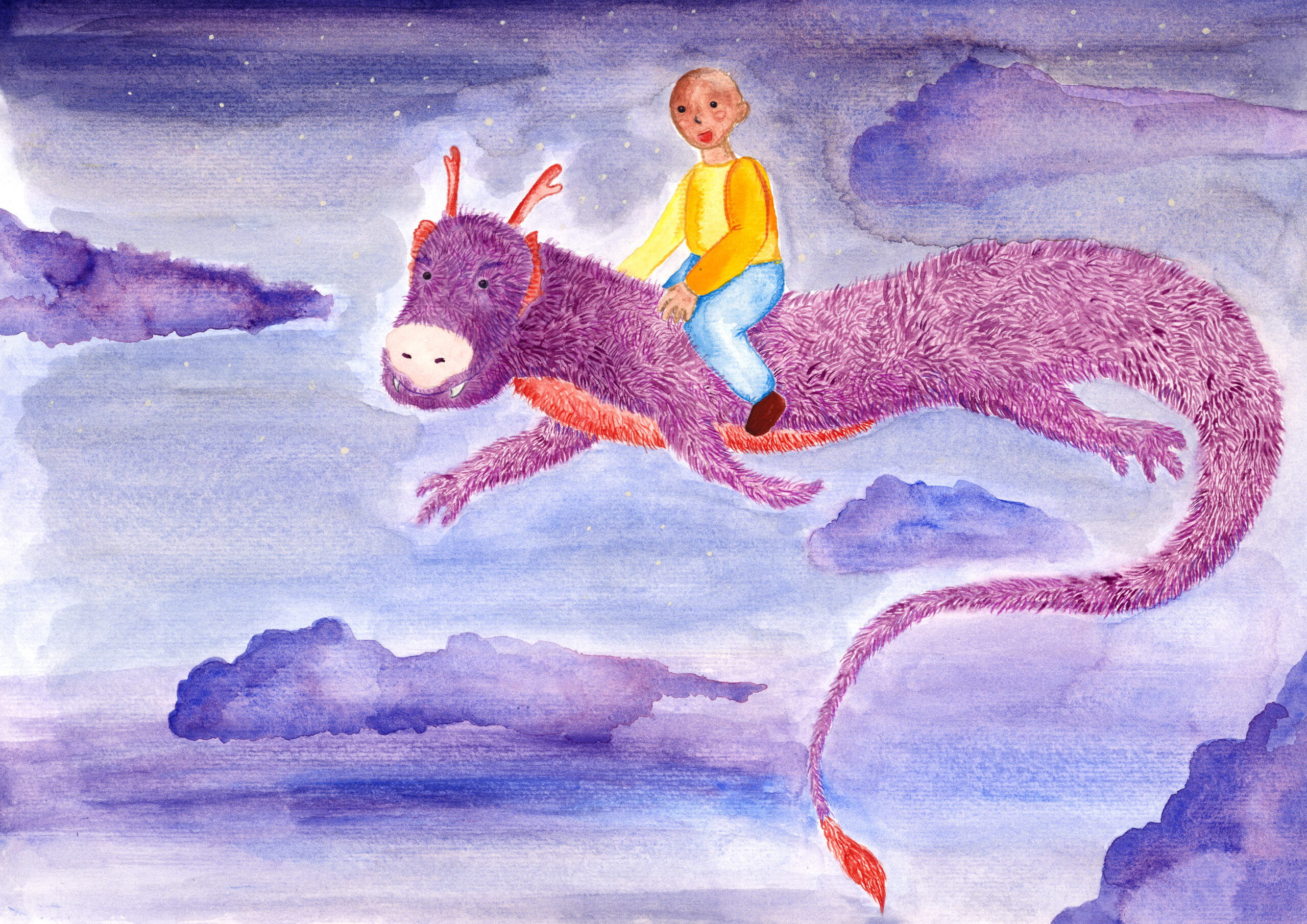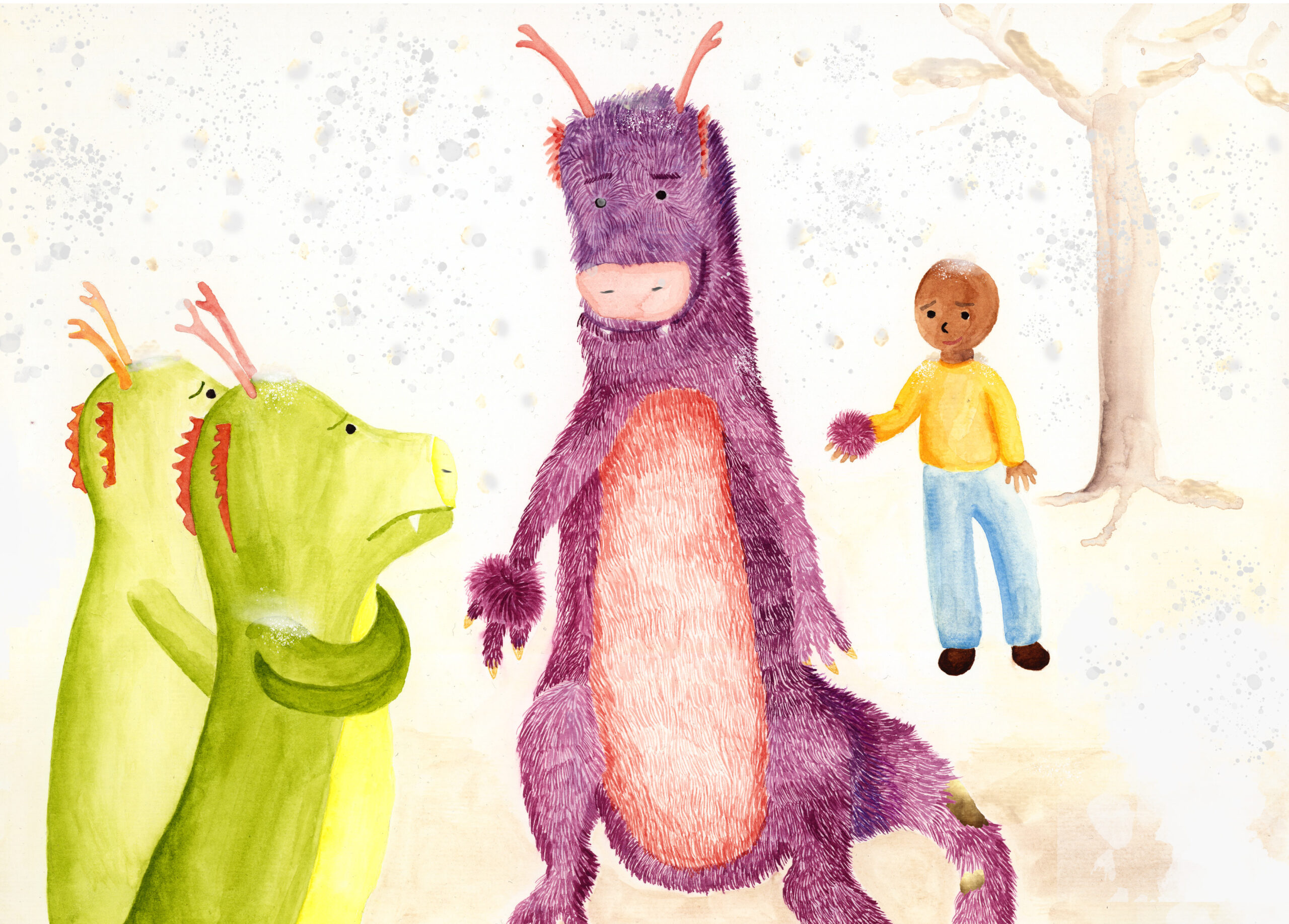 It was a blistering cold day. Fluffy and Jun Ho gone down to the hill to gather some sticks and they saw all the dragons huddled around to keep themselves warm, but it still was not enough. But Fluffy was feeling okay because of her fabulous fur. Jun Ho was also feeling warm, as he cuddled closely to Fluffy.
Fluffy the dragon, was worried about the other dragons. She asked the other dragons, "Do you need help with anything?" They said to Fluffy, "We are so cold, and we don't know what to do."
Fluffy was deep in thought then asked Jun Ho. "Can you pull my fur and give some to the dragons?" Jun Ho started to pull her fur little by little and gave them to each dragon. Even though it was painful, fluffy was happy to make others warm.
When all the fur was gone, there were beautiful golden scales. All the dragons were shocked and couldn't take their eyes off Fluffy. They said, "Fluffy, we are sorry we were making fun of you, and because of your fur, now we feel warm. Thank you."
The chilly weather passed, and the warm sun came out to shine the dragons and Jun Ho with warmth. And they all played together with
endless laughter.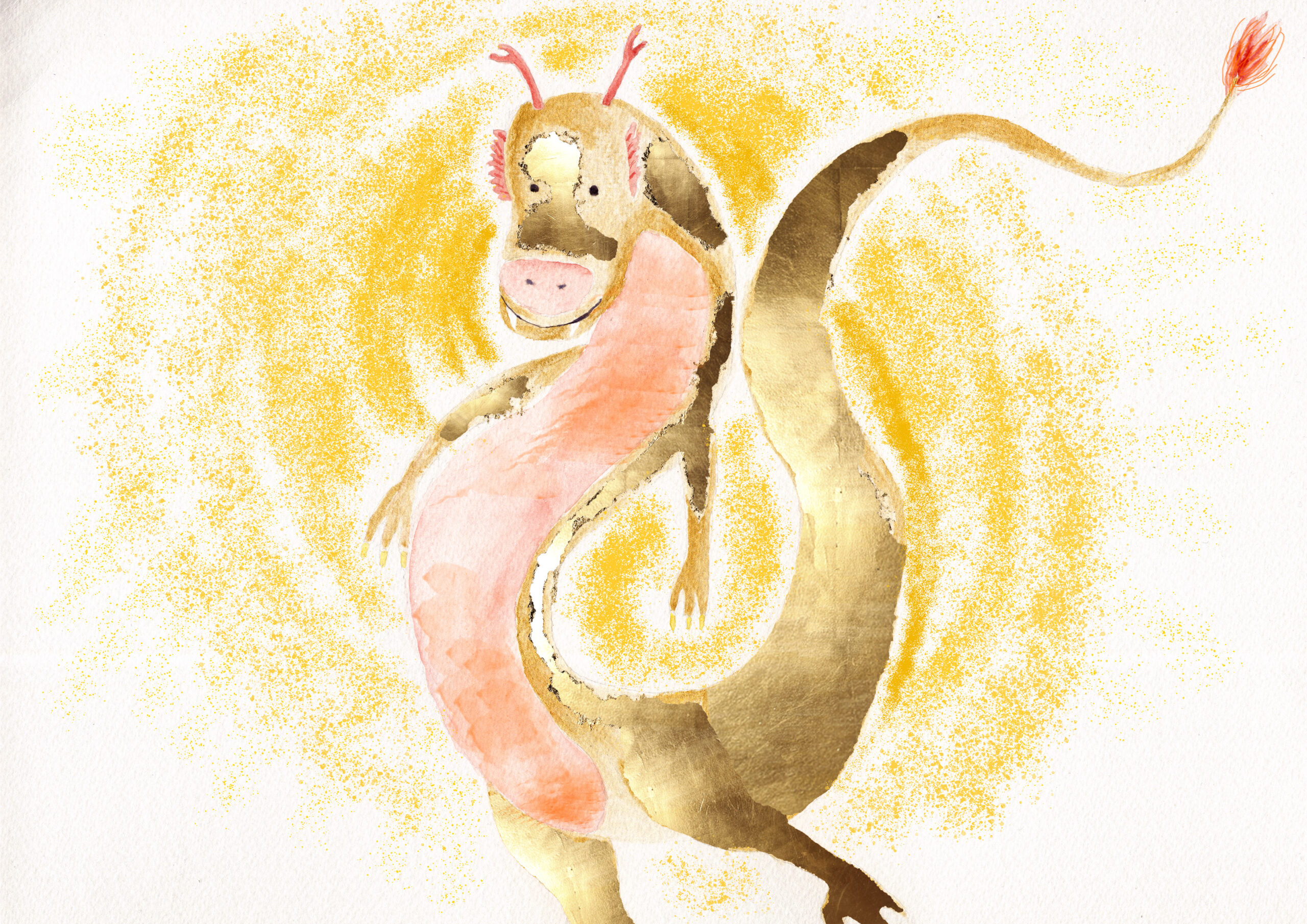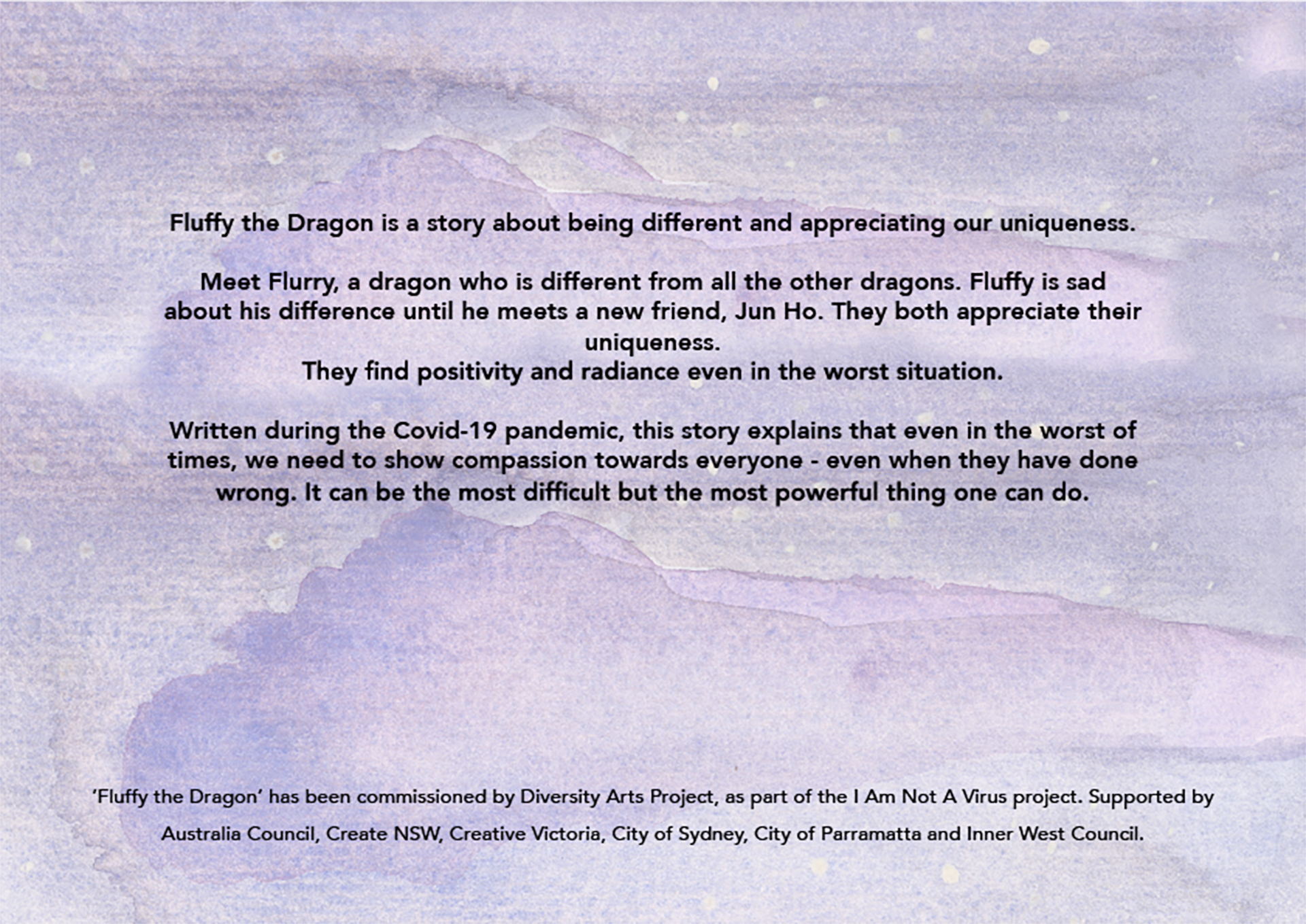 Fluffy the Dragon is a children's story about being different and appreciating our uniqueness.
Using watercolour paint and pencils, I wanted to share the beauty of Asian dragons and break the stereotypical mindset that strength is often depicted with physical strength. In Asian culture, dragons are drawn as powerful mythological creatures, but in this children's book, I wanted to make dragons friendly and approachable for children.
Bright colours were used throughout the book, and in the depiction of the secondary character, Jun Ho to suggest to the readers to find positivity and radiance even in the worst situation.
This story is reflective of the times we live in today, particularly for the Asian Australian community who are facing heightened discrimination during this pandemic. Even in the worst of times, we need to show compassion and solidarity towards everyone – even when they have done wrong. It can be the most difficult but the most powerful thing one can do.
Music credit: Cosmic Technology by High Street Music
About the Creative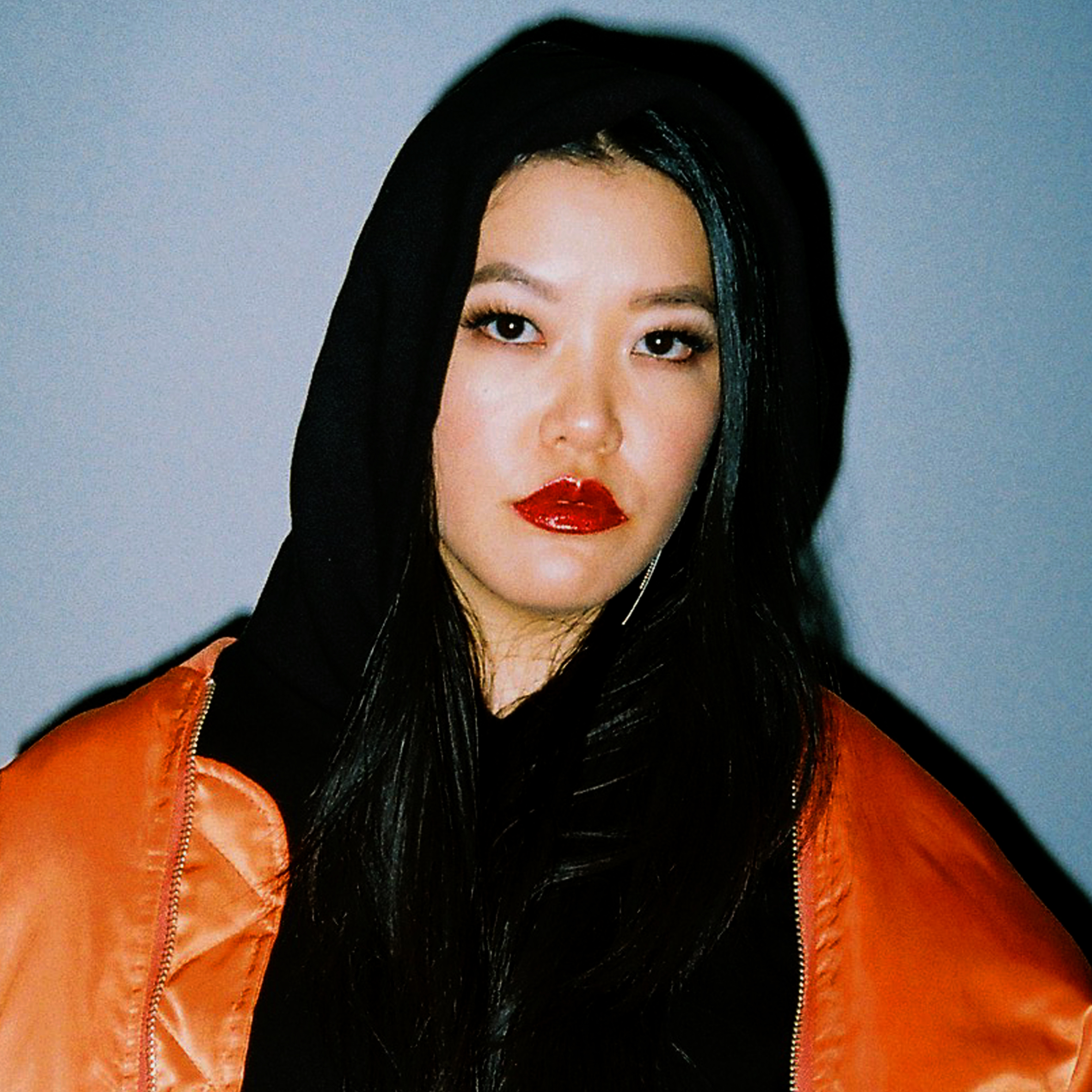 (Photo credit: Joshua Vega)
Yeon Ju (YJ) is a graphic designer and an artist. She has worked with diverse clients in both corporate and freelance capacities and across diverse mediums. Her personal artwork has been featured in Sugar Mountain festival as part of a showcase of Women of Colour creatives. She has also been featured in i-D Australia as a Person of Colour in the creative industry. Her artworks are based on her existence at the time. She believes our existence alters itself like water shifts its shape and form where you contain it. She also has been writing since she could and now combines her passion for art and writing into one.